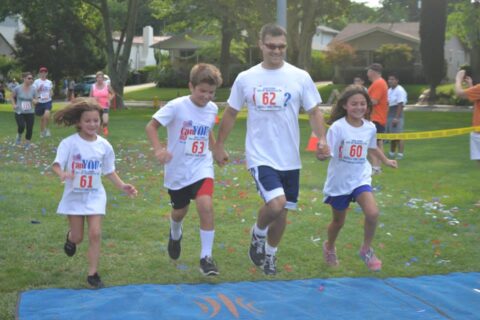 We're Back in 2021!
The Roseville Crime Stoppers are excited to be putting on our Annual 4t of July Run Crime Out of Roseville event!
 Can YOU beat the Roseville Police?
Join us on the 4th of July for our Annual Run Crime Out of Roseville where you can match your speed against the Roseville Police Department in a 5K and 10K race!
We will be offering both a chipped, in-person option and a virtual option!
Where Do the Funds Go?
We are excited to be continuing our annual tradition of kicking off the 4th of July festivities with our Annual Run Crime Out of Roseville! We are proud that we use the funds from this event to make our community safer for ALL our residents and work closely with other local non-profits and our Roseville Police Department to ensure everyone in our City feels safe. The funds directly go to community education, the management of our anonymous tip software and phone number, and sponsorships for high school students in our community who want to go into the first responder field.
Details
Registration Fees
General (ages 18 to 118) 10K, 5K and 1 Mile
10K Registration from May 1 to July 1 – $355K Registration from May 1 to July 1 – $30
Children (17 and under) 1/4 mile/5K/10K
10K Registration from May 1 to July 1 – $25
5K Registration from May 1 to July 1 – $25
¼ Mile Registration – Free for those under 10. You may choose to purchase a shirt for these runners on the sign-up page as it is not included with this free run.
Virtual Run Option
All Registrations – $25
Virtual Run Details: 
Register for the Run Crime Out of Roseville 2020before July 10th, 2021
Complete a 5K (3.1 miles) at your convenience anytime, anywhere (but it would be great if you did it on the 4thof July!
Celebrate your accomplishment by sharing on social media! #RunCrimeOutOfRoseville2021 
Please note that there are no refunds at this time. 
Location
We are currently planning on holding our event in person, with chipped timing, with a virtual option. The 2021 Run Crime Out of Roseville will be held at Vernon Street Town Square in Downtown Roseville and will occur rain or shine!
Race Day Schedule
| | |
| --- | --- |
| 6:15 to 7:00 a.m. | Check-in and Registration |
| 7:00 a.m. | Timed 10K Starts |
| 7:15 a.m. | Timed 5K Starts |
| 8:05 a.m. | Untimed 1/4 Mile Kids Run Starts |
Early Packet & T-shirt Pick-up
Packet Pick-up will take place on Saturday, September 25th from 9 AM to 12 PM at with a location to be determined. You may also pick up your race packet on Race Day at registration starting at 6:15!